Children's author Donna Vann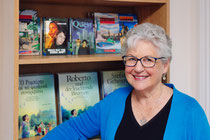 The stones pictured above hint at my life-long hobby of collecting them. Several sit on my writing desk, including one from Berkshire which could have been used to make a spear head.  There is something peaceful about these ancient stones - they will be here long after we're gone.
Teachers, I'd be happy to come to your school – I offer creative writing workshops and assemblies for up to a hundred pupils per session. Please contact me re availability. 
Kids, if I've been to your school or library recently, see if you are pictured in the gallery.  Children's writers may find my tips useful, and I've also listed several authors you might like to know about.
Thanks for visiting - I hope you'll leave a comment!