Children's author Donna Vann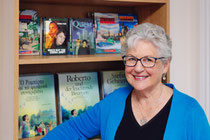 I started writing stories at age eight and am still going strong! At the moment I'm working on poems, picture books and some novels which are laugh-out-loud funny.
When I'm not writing, you might find me cycling down to the sea to pick up a few more stones or shells for my collection. There's something peaceful about these ancient pieces of the earth's crust - they will be here long after we're gone.
Or perhaps I'll be taking a hike, hanging out with family or friends, or reading. Or I might be visiting a school to encourage new writers.
This month I am so excited about my new dyslexia-friendly chapter book! 
SUPERCOUSINS: The Frankenpops Rescue
Josh is ten! His life will be totally different from now on, but not in the way he expects ... After an evil alien invades Josh's birthday party, will the four cousins be able to use their unexpected powers to save their family ... and the world?
"Such a fun and magical tale of friendship, family and being 'super'!"
Emma Finlayson-Palmer, author of "Autumn Moonbeam"
Wonderfully illustrated by Joseph Wilkins