Children's author Donna Vann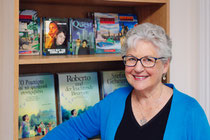 I started writing stories at age eight and am still going strong! At the moment I'm working on picture books (only the words) and some novels which I hope will be laugh-out-loud funny.
When I'm not writing, you may find me cycling down to the sea to pick up a few more stones or shells for my collection. Several stones sit on my desk, including one from Berkshire which could have been used to make a spear head. There's something peaceful about these ancient pieces of the earth's crust - they will be here long after we're gone.
Or perhaps I'll be taking a hike, or hanging out with family or friends, or reading. Or I might be visiting a school to encourage new writers. Not at the moment, of course - instead, my schools workshops are on the Home Schoolers page for you.